Take a break from Sin City and try a Day trip for a worthwhile adventure!
By Kayla McMillan
There are quite a few misconceptions about Sin City, but if you think Las Vegas is just a lonely city in the middle of the desert… well, then you'd be right. But there are so many day trips from Las Vegas that are definitely worth the drive!  These Las Vegas day trips will make your visit even better!
Take a break from the city lights and the loud slot machines by traveling elsewhere; there is a wealth of natural wonders to explore! The excitement of Las Vegas can be exhausting and a day trip into the great outdoors can provide a welcome balance to travelers to Sin City.
Here are just a few of the many day trips from Las Vegas that offer the full spectrum of sights.
Grand Canyon
270 miles; 4.15-hour drive
There's no secret here: the Grand Canyon is one of the most impressive natural wonders of the world. A day trip to the Grand Canyon brings you across state lines into Northern Arizona, taking another state off your USA bucket list.
The 277-mile-long canyon was carved out by the Colorado River over the course of millions of years. The canyon itself is massive, it's impossible to see all of it in one trip.
Travelers can find hikes from the visitor's center while learning about the history of the massive area.
There are plenty of places for hiking, camping, and backpacking as well as scenic driving routes for those who don't want to use their feet all too much.
Along these drives there are many viewing points to stop at along the way, offering a different perspective of the canyon from each angle.
Pro tip: The South Rim is the nicest part. It's cleaner, has the best views, and is run by the National Park Service.
The Hualapai Tribe runs the West Rim and operates the famous skywalk. Stay away from the remote North Rim.
Valley of Fire
50 miles northeast; 56-minute drive
The Valley of Fire is one of Nevada's most iconic natural wonders containing native Indian petroglyphs that are believed to date back over 3,000 years.
At the Valley of Fire visitors center, you can learn more about the relics before heading out to see them for yourself.
Known for being Nevada's oldest and largest state park, the Valley of Fire is an amazing day trip from Las Vegas. The park is ideal for camping, hiking, picnicking, and photography.
The park is open year-round, but summer temperatures can reach 120 degrees Fahrenheit, so visitors should come prepared with water and sun protection.
Death Valley National Park
142 miles west; 2.5-hour drive
Named Death Valley for good reason, Death Valley National Park is one of the driest and hottest places on earth.
A day trip to this national park is not complete without visiting Furnace Creek, Badwater and Zabriskie Point.
During a day trip to Death Valley, you can visit the desolate Rhyolite, a ghost town left in the wake of the Gold Rush.
As well as being the hottest place on Earth, Death Valley is also a place of extreme beauty. Death Valley is an ideal place for hiking, camping, and rock climbing.
Hoover Dam
40 miles; 45-minute drive
If you thought Las Vegas was an impressive man-made area in the middle of the Nevada desert then you will truly be amazed by the Hoover Dam.
Taking over five years to build and requiring constant maintenance the Hoover Dam created the largest reservoir in the United States of America.
Holding a staggering 28.9 million acre-feet of water the capacity of the Hoover Dam is almost incomprehensible.
Tours of the Dam complex and neighboring power plant are offered throughout the day. Tours are offered from 9:30 am to 3:30 pm daily and tickets can be purchased in-person at the dam.
Red Rock Canyon
17 miles; 25-minute drive
Being one of the most accessible day trips from Las Vegas, Red Rock Canyon lies just 17-miles south of the city center.
Whether you choose to explore Red Rock Canyon on a bicycle, horseback or on foot, a trip to this beautiful canyon is one of the highlights of the Mojave Desert.
In the Red Rock National Conservation Area, you'll also find the gorgeous red and cream Calico Hills. More than two million people visit Red Rock Canyon each year for hiking, biking, rock climbing, horseback riding, and more.
A 13-mile road winds its way through the scenic conservation area, which contains all sorts of desert plant and animal life.
Bryce Canyon, Utah
262 miles; 4-hour drive
Featuring extraordinary natural geographical formations of red rock, Bryce Canyon is one of the most impressive landscapes in Nevada.
Visitors can find castles, battlements, and ruins of city walls within the red rocks.
Bryce Canyon National Park is named for its horseshoe-shaped amphitheaters carved from the plateau in southern Utah. The interesting structures that cover the canyon are called "hoodoos."
Teaming Bryce Canyon with a trip to Zion National Park is a popular combination day trip from Las Vegas.
Zion National Park, Utah
161 miles northeast; 2.5-hour drive
Known as Utah's first national park, Zion National Park is one of the most picturesque places in the southwest. For some adventurers, it's another chance to cross off another US state. This is a truly extraordinary Las Vegas day trip.
The park sees millions of visitors each year. People come from all over the world to experience Zion's challenging hikes, explore its deep canyons, and learn about the interesting plant and animal life in the region. There are campsites in the park for overnight stays.
At the Zion Nature Center, young visitors can learn all about the fascinating history of the park through hands-on activities, pictures, books, and games.
Los Angeles & Hollywood
285 miles southwest; 4.5-hour drive
For many travelers, a visit to Los Angeles is entirely separate from a trip to Las Vegas, but it doesn't need to be!
Only four hours way, Los Angeles is an easy and direct day trip from Sin City. In the duration of one day, visitors can visit Beverly Hills, Hollywood, Venice Beach, Santa Monica, and more.
Lake Mead
31 miles east; 51-minute drive
Lake Mead provides a relaxing and peaceful day trip from the hustle and bustle of Las Vegas.
The Lake Mead National Recreation Area, however, should be explored during the day time and has a number of scenic walking trails that curve around the lake shores.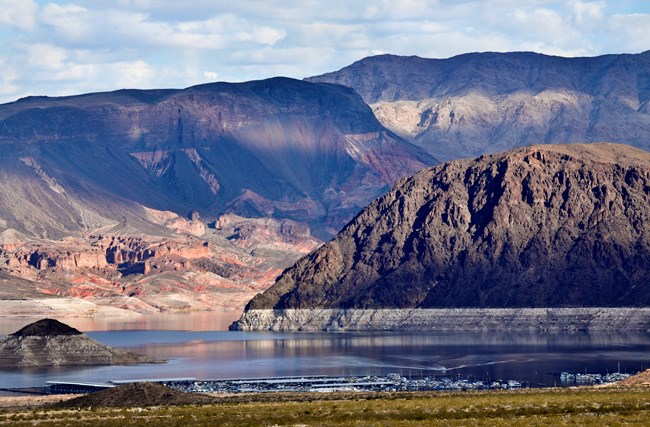 Lake Mead is well known for its spectacular scenery. The recreational area is home to thousands of species of desert plants and animals and the red rock cliffs that surround the lake contribute to the natural beauty of the area.
Visitors can try out all different activities at Lake Mead including boating, camping, kayaking, canoeing, hiking, and picnicking. Sportfishing is one of the most popular activities in the area.
Mount Charleston
In between all the canyon and desert, Mount Charleston offers travelers a contrasting landscape to enjoy for a day trip.
The mountain is always snow-capped in the winter, making it ideal for sledding, snowboarding, and skiing.
Mount Charleston is a beautiful recreational area located in the Spring Mountains. The area is best spent hiking, picnicking, camping, mountain biking and more.
Latest posts by Kayla McMillan
(see all)