Urban Originals Vegan Leather Voyager Tote: Sleek!
Voyager Tote by Urban Originals is a waterproof canvas bag with two big side pockets and a frontal one with a magnetic button. It features a zipper closure and a very roomy inside with plenty of pockets. This canvas bag with vegan leather details has double handles and a detachable and adjustable webbing strap.
Voyager Tote $98
Get a Grip with SteadyStraps
SteadyStraps is here to prevent an expensive dreaded mishap from ruining your day. It's hands down the must-have smartphone grip in 2022. Great for Easter baskets, Mother's Day gifts, and graduation celebrations at $10 each. I have found these straps to be a great addition to my favorite iPhone.
Choose how you hold onto your phone and say goodbye to sticky and unreliable adhesives. Let's face it, whether running to work, errands, school, or carpooling, we're always on the go. Life is too busy and whatever can help ease our days is essential.
The Eternity Rose: A Gold Plated Realistic Rose
Do you want to give mom some flowers that will NEVER fade? How about a real rose dipped in gold, in a specially made wooden box?  The Eternity Rose is for you!
A natural rose dipped in 24 karat gold.
A wonderfully romantic gift idea for her.
It perfectly combines the beauty of a rose and the majesty of fine gold.
It is presented in an exquisite high gloss woodgrain case and comes with a certificate of authenticity.
Brilliant and lustrous fine gold finish, this gift is a meaningful symbol of love that will last an eternity.
Fast & free express delivery.
Eternity Rose $169
Levenger True Writer Fountain Pen: A Touch of Class for Mom
Some moms love to write thank you notes, and for these, there is only one solution: A top-quality fountain pen from Levenger. This heavy, gold-plated fountain pen uses either ink cartridges or you can dip it into an inkwell.
The stunning True Writer Create boasts an intricate herringbone-engraved design on its barrel, cap, and grip sections set off by gold-plated accents. And the True Writer is perfectly weighted and balanced for a comfortable writing experience. Available in gold and black.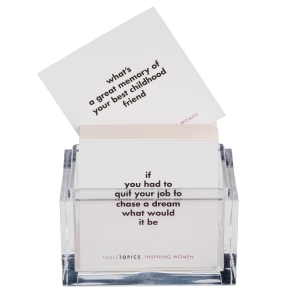 Table Topics: A Fun Way to Get to Know People Better
Bring on the fun with TableTopics! Whether you're surrounded by new friends or loved ones, TableTopics' thought-provoking questions and intriguing quotes make it easy to spark new and rewarding conversations!
From road travel to backyard BBQs, get the conversation flowing with the different options from TableTopics:
Inspiring Women – Discuss some of the most influential women of the day with the ones who inspire you most this International Women's Month!
Original Edition – From Mother's Day luncheons to girls' night, no table is complete without the set that started it all.
Family Gatherings – Make sharing memories even easier at your next Sunday dinner or reunion with these engaging starters.
TableTopics offers dozens of different decks to match your next event.
tabletopics.com From $25

Heirloom Video Books: Surprise a Loved One with a Personalized Movie!
Heirloom allows you to create custom video books to send to someone you love. It is fast, easy, and oh-so-beautiful that you will want to make more for different occasions. To get started you select videos directly on sendheirloom.com!
Once completed, Heirloom will ship your video book directly to the recipient. Each book comes fully charged and videos play automatically when the cover is opened. Heirloom is on a mission to make it possible for special moments to be shared with family and friends. A wonderful gift for birthdays, Holidays, sharing baby's first moments, weddings, and so much more!
Heirloom Video Books 10-Minute Book $49, 20-Minute Book $69, Add a gift box for $12!

Minkee Blue Travel Bags with Secret Zippered Compartments: Snazzy!
The ultimate travel hack is a bag with multiple compartments for your working woman! This brand has beautifully given the everyday tote and backpack a makeover with chic offerings that complement modern lifestyles. With zippered compartments that keep shoes and food separate from other items, it's the perfect solution for busy women who juggle work, motherhood, errands, workouts, and more with sophistication and a smile.
MinkeeBlue  $169.00
Pizuna Linens: Luxury Sheets that Don't Cost a Small Fortune
At Pizuna Linens they've cut out the middle man to bring you luxury-level quality without the hefty price tag. Their sweat-wicking and temperature balancing sheet sets are meticulously handmade using a fine yarn technique that delivers an ultra-soft and breathable weave to keep you cool during the summer and warm during the winter. Choose from a variety of colors & sizes.
Made from extra soft 100% long-staple cotton
Sweat-wicking and temperature balancing
Breathable, durable and smooth
Authenticated 400 Thread Count Cotton
Several colors and patterns to choose from
All fabrics used are OEKO-TEX certified, certified AZO FREE, and free from over 300 harmful chemicals
Sets include a large flat sheet, deep pocket fitted sheet and 2 pillowcases with stylish hem
Pizuna Linens starting at $20.99
Baesix Skincare for Happy Skin
Baesix (/ˈbasics/) is vegan, organic, cruelty-free, inclusive & eco-responsible simple, skincare routine for happy skin every day! Baesix skincare is only six steps to healthier skin. The "BAE" means "Before Anyone Else" – meaning love yourself first then others will fall in love with you too; and the "SIX" stands for the six simple steps to follow for glowing, healthy skin!
Baesix developed its unique formulas from scratch in Korea with a focus on healthy hydration and bioactive nourishment. They use 100% organically certified bamboo in their products. As one of nature's richest sources of silica; the bamboo extract is known to stimulate the production of collagen, loaded with antioxidants that combat free radicals, and boasts potent anti-inflammatory and anti-bacterial qualities.
Loom & Table's Juniper Tablecloth Brings Style to your Dining Table
The threads of Juniper will carry you away to the best-looking table, every time. In 6 desirable colors (sky, chocolate, sage, white, gold, and silver), this style suits all occasions, and will naturally become mom's "go-to" tablecloth.  Made of 100% Premium Polyester.

Machine wash cold with similar colors. Use bleach-free detergent and treat for stains if needed. Lay flat to dry or tumble dry low. Iron with low heat if desired. To reduce wrinkles, wash linens when folded and lay them on your table to dry.
Juniper Tablecloth from Loom & Table $54
Credit Cards for Avid Travelers
Latest posts by GoNOMAD Contributors
(see all)