Shikoku Island, Japan a Hiker's paradise
By Kristin Johannsen
WHERE
Shikoku is the smallest of Japan's four main islands.
WHY GO
Sparsely-populated Shikoku, just a short hop from Osaka, is a window into Japan's rural past.
It's way, way off the beaten track, and a wonderful introduction to many aspects of traditional Japan, stuffed with farming villages, samurai castles, orange groves, craft workshops, mountain scenery — and the most startling Shinto shrine in the whole country.
WHEN TO GO
As elsewhere in Japan, spring and fall are best. From March through May, trees are in blossom and the weather is mild and sunny.
October to mid-December bring blue skies and dazzling leaves. Summer can be suffocatingly humid (and plagued with typhoons) while winter is damp and chilly.
GETTING THERE AND AROUND
By Land or Sea

Three huge bridges link Shikoku to the main island of Honshu, so train (from Okayama) or highway bus are two access possibilities. But the cheapest and most enjoyable trip is by ferry from Osaka's Nanko Port.
Posh ferries of the Kansai Kissen line make the trip nightly, reaching Matsuyama around 6 am. These miniature ocean liners feature restaurants, cabins in all price ranges, and even spa-style Japanese baths — soak in the tub watching the Inland Sea go by!  Book through any Japanese travel agency, such as JTB.
Getting Around

For travel around the island, your choices are by train (infrequent service, but reasonable prices) or bus (more frequent service at less-reasonable prices). Distances are short, so it's not worth "spending" Japan Railpass days here.
BEST MAJOR ATTRACTION
Uchiko a beautifully preserved 19th-century village in Ehime Prefecture. The town grew wealthy producing the vegetable wax candles that lit most Japanese homes before the advent of electricity. Watch candles made in the traditional way in the Omori Rosoku shop: the candlemaker dips up handfuls of molten wax and rolls the wicks repeatedly across his palm, forming graceful shapes almost too pretty to burn.
Then wander the streets of opulent mansions built by candle merchants — the Kami-Haga House, built in 1894, is a stunner. Its garden contains a small museum showing how the wax is made from sumac berries, and its modern use in everything from lipsticks to computer disks.
BEST UNUSUAL ATTRACTION
Taga Jinja, in Uwajima, a Shinto shrine with a difference. Originally, women came here praying for fertility, and a   small building holds poignant offerings of dolls, wooden combs, and long tresses of hair. The main hall is rather more explicit, with a 12-foot-long wooden phallus out front.
The top attraction, though, is the shrine's notorious sex museum, three floors packed floor to ceiling with a bizarre assortment of erotica from around the world: scrolls and statues, teacups and S-and-M harnesses, amulets and comic books and suggestive photos of vegetables, thrown together in no discernable order and hand-labeled in quirky Japanese. Amazing — and ultimately, numbing.
Shikoku's 88 Temple Pilgrimage

Shikoku was the birthplace of Kobo Daishi, Buddhist "saint" and founder of the Shingon sect. For centuries, his followers have hiked a circuit of the 88 temples he founded, scattered around the mountainous island.
These days, pilgrims are mostly jolly retirees off for a quick bus circuit of the temples, but you will also encounter devout travelers dressed in white and carrying staffs and albums for calligraphic inscriptions from the monks. For the musings of a gaijin (foreigner)who walked every step of the way, track down Oliver Statler's Japanese Pilgrimage (Morrow, 1983– out of print).
Some American and Australian universities have exchange programs with sister schools in Shikoku such as Shikoku Gakuin. If you're a student, it's worth asking at your home institution– Shikoku would be a fascinating place to study Japanese.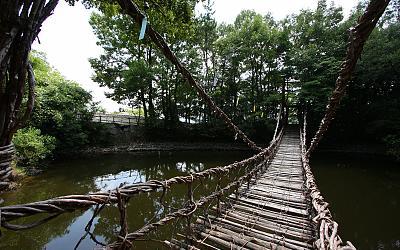 BEST LOCAL HAUNT
Dogo Onsen, near Matsuyama, a wonderfully atmospheric nineteenth-century hot-spring resort.
Tel: +81-899-21-5141
The wooden buildings are creaky and funky, the baths all slick marble, and the water stupefyingly hot (and a treat for your skin).
Splurge a few extra dollars on a graceful, airy private room for after-bath relaxing. There you can loll about in your yukata robe while a hostess serves tea and sweet bean-paste dumplings.
BEST LODGINGS
The Matsuyama Youth Hostel
(Tel. +81-899-33-6366)
One of the poshest you'll find anywhere — some of the private "rooms" are actually little apartments with their own bathrooms. Friendly manager, tasty meals, and rock-bottom rates, for Japan — around $30 per person. What more could you ask? website
BEST EATS
Oranges! Yes, the island has the usual line-up of regional culinary specialties — its own variation of noodles (five-colored somen), its local style of pickles, its special type of fish sausage… but there's nowhere else in Japan where you can stuff yourself on honey-sweet oranges, dirt cheap. If your barebones travel budget has left you vitamin-deficient, this is the place for you.
BEST ENTERTAINMENT
The southwest corner of the island is known throughout Japan for (of all things) bullfights. No, not those gory spectacles where macho-men kill bulls with little skewers — it's more like bovine sumo wrestling. Two immense, pampered bulls try to butt each other out of a ring, urged on by their trainers.
It's the only place in the world where you'll see this, and only if you're lucky enough to be there on the six days of the year that it's held. Check with the tourist office in Uwajima for tickets. (Tel. +81-895-22-3934)
BEST SHOPPING
Iyo Kasuri, a specialty of Matsuyama, is the hallowed art of ikat weaving using cotton dyed with natural indigo. At Mingei Iyo Kasuri Kaikan (Tel. +81-899-22-0405) you can watch the masters at work, and try your own hand at making an indigo-dyed handkerchief. Their shop is filled with some really lovely gifts: bags, tablecloths, and wallhangings — and for you multi-millionaires, there are gorgeous bolts of kimono fabric.
VISAS AND DOCUMENTS
Citizens of most Western countries can enter Japan without a visa for stays of up to 90 days.
HEALTH AND SAFETY
Shikoku, like the rest of Japan, is probably healthier and safer than wherever you call home!
BEST RESOURCES
Latest posts by GoNOMAD Contributors
(see all)